Help CanPay Celebrate 30 years of Payroll in Canada!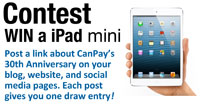 *CONTEST COMPLETED* - Summer 2015 marks a milestone in CanPay's history as we enter our 30th year of business. Back in 1985, our company President Lyle Scammell founded CanPay and began providing Canadian businesses the ability to perform payroll processing in-house through our line of successful PC-based software tools. Fast forward thirty years and CanPay is now officially launching eNETEmployer - a comprehensive web-based Payroll, HR and Employee Scheduling solution. It's a online software tool that represents the newest in internet-based technologies and offers all businesses a secure and flexible environment in which to work with their payroll.
Click here to read the media release about our 30 year in business.
Click here to visit the new eNETEmployer website.
Click here to visit view a printable brochure that discusses some of the features of this exciting new internet-based payroll software tool.
Win a FREE iPad Mini
Help us celebrate our 30th anniversary this summer by getting the word out via social media and the internet, and you will be entered into a draw to win an Apple iPAD Mini!
Contest entry is easy - simply post a congratulatory message about us and include a link back to the www.canpay.com website. Each post (with link) that you create will get you one entry into the draw. For example, if you post "Congratulations CanPay, on 30 years of Payroll Software and Service in Canada" on both your Facebook and Twitter pages, you will get two entries for the prize! Create more posts on your company website, blog, Instagram, Linked In, Pinterest, Google+, Tumblr, etc, and gain even more entries into the draw.
Remember to include a hyperlink back to www.canpay.com for all posts, and please send an e-mail to admin@canpay.com letting us know about all of your posts (so that we can add an entry to the draw for each one). All posts must be submitted by the contest closing date of August 31, 2015. Watch your e-mail for more draw entry opportunities through the duration of the contest...

---
Looking for Payroll in Canada?
CanPay provides Payroll and HR software and online solutions for thousands of companies across Canada. If your business has a unique payroll or HR need or you are simply looking for an alternative to your current method, contact us today. We can offer you a customized solution that will suit your unique business requirements. Please call 1-800-665-5129 or send an email request to: sales@canpay.com.